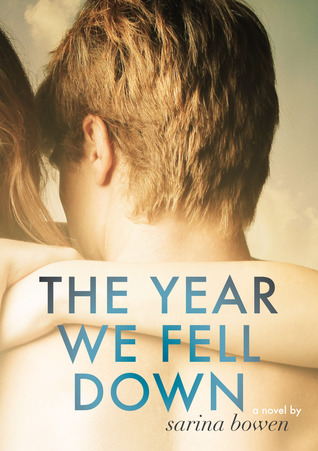 TITLE: The Year We Fell Down
PUBLISHED: March 21st 2014 by Rennie Road Books (first published March 20th 2014
MY RATING:
**** 4 STARS
The sport she loves is out of reach. The boy she loves has someone else.

What now?

She expected to start Harkness College as a varsity ice hockey player. But a serious accident means that Corey Callahan will start school in a wheelchair instead.

Across the hall, in the other handicapped-accessible dorm room, lives the too-delicious-to-be real Adam Hartley, another would-be hockey star with his leg broken in two places. He's way out of Corey's league.

Also, he's taken.

Nevertheless, an unlikely alliance blooms between Corey and Hartley in the "gimp ghetto" of McHerrin Hall. Over tequila, perilously balanced dining hall trays, and video games, the two cope with disappointments that nobody else understands.

They're just friends, of course, until one night when things fall apart. Or fall together. All Corey knows is that she's falling. Hard.

But will Hartley set aside his trophy girl to love someone as broken as Corey? If he won't, she will need to find the courage to make a life for herself at Harkness — one which does not revolve around the sport she can no longer play, or the brown-eyed boy who's afraid to love her back.
Before reading the book I thought to be too old for this genre, but on the contrary the book is great, well written and a lifting-mood for an "old lady" like me.
I liked the continous exchange between Corey and Hartkey's POV.
Corey is the heroine, life has defeated her body and scarred her soul but she's stronger than this. She's is stronger than the look of the other people that seem to see only a wheelchair and not her.
"Waiting in line in my chair put me eye-level with other people reqr ends. It was the same way the world had looked when I was seven years old."
A fresh start at Harkness College and news friends is the second chance to live again.
Hartley has his own life issues to solve. A broken leg and a painful past have made him cautious with other people.
Between Corey and Hartley the friend-to-lover step is short.
I loved them: sweet, strong, funny, crystal-clear.
"I was perfect," I said. "And I didn't even know."
"No," he whispered into my ear. "No, no. Perfect isn't real

"
This book catch the intense feelings of the first love, joy and insecurity, the sensation of freedom and forbidden.
"I was a live wire. I was a kite in a thunderstorm. I was a seismograph, the needle quivering in anticipation of the earthquake"
This book gives to the readers a positive message: never give up, don't take anything for granted, value what you have now because when what you have is taken away from you is too late to regret. And never forget that "Everybody has their shit to shovel."
"Everybody has their shit to shovel,Callahan.Everybody.Now,yours is right up front where everybody can see it.I don't envy you that.But everybody has some,whether you can see it or not."
A great TBR book. Can't wait to read the second.