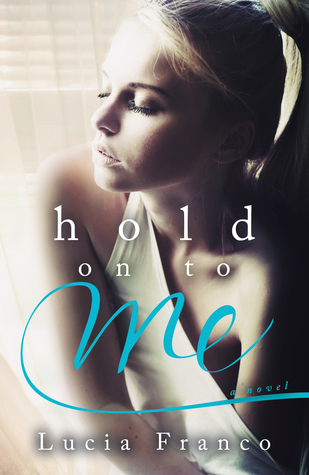 TITLE: Hold On To Me
AUTHOR: Lucia Franco
SERIE: All or Nothing #2
PUBLICATION:Published June 2nd 2015
(first published May 31st 2015)


MY RATE: 4 STARS ****
John Jackson.

He's a sweet talking Georgia boy, rough around the edges with an irresistible smile. John sets his sights on the new girl, determined to show her what his small town is about. But she isn't as accepting as he thought and she rejects him at every turn.

The beauty and boldness of Alyssa Winters stirs John's blood. She quickly works her way under his skin and becomes a constant in his life – his best friend, his other half. As the attraction between the two friends grows, John wants more.

She pushes, he pulls.

When one reckless night of fun wreaks havoc on John, Alyssa risks it all to ease his pain, giving him the one thing he desires most...her. But John's sadness runs too deep, the damage, irreparable.

He runs, she falls.

John must work to prove himself. Despite everything, Alyssa is the one person he doesn't want to live without. The stakes are high, and he's willing to bet it all. Even if it means he's left to suffer alone
ARC provided by the author in exchange for an honest review
A journey into the world of young people, in that age where they are no longer kids, but not even adults.
In that Limbo in which they believe they can have and do everything, where bad choices may have serious repercussions on their future.
A history of great friendships and painful losses.
John and Alyssa come from two different experiences.
John has a family that loves him and supports him in his choices.
Alyssa lives with a mother who has never accepted her.
When Alyssa moves in Georgia, she soon becomes friend with John and his friends Jace and Ford.
But an error, a bad choice, and Jace looses his the life and nothing will be the same agian.
"Jace was gone. Dead. A life cut short. All because they got little too reckless one night. They thought they were on top of the world, kings that no one could touch in their small town. Little did they know, they were just pawns in the grand scheme of things because when death came knocking, it didn't matter who you were or what you did, death took who it wanted."
In this painful moment John realizes that Alyssa is not just a friend, and Alyssa makes a mistake
that leads her to live her personal Hell.
John, however, decides to transform his and Alyssa's life in a Paradise remedying any errors made.
"Hold on to me and don't let go. Let me be your anchor. Let me in, Alyssa..."
The path is tortuous, made of tough decisions and the fear to fail again.
It is a continuous journey in search of the lost happiness and confidence.
"It takes compromise. A relationship is a work in progress. There is not one relationship that isn't."
Personally I did not agree on Alyssa's choices, she so stubborn that I found her quite unpleasant, but her desire for indipendence and her strenght to accept the consequences of her mistake made her a very determined woman.
John is too sympathetic and loving.
I came to think that Alyssa did not deserve his love and his family that welcomed her as a daughter.
In

certain situations

John

seems

weak

, but he's the opposite. The pain for the loss of Jace made him a mature grown man.
"Life is a wild and unruly path, there will be bumps and mountains along the way, but having your other half with you makes it easer. No one knew the outcome, everything happens for a reason."
In

this book

the charactres are not

perfect

and this is what

makes the story

real.


A

book full

of emotions and

true feelings

.


The writing is fluid

,

never boring

or too

dramatic

.


A

good book

I would recommend to

everyone,

young and old

.