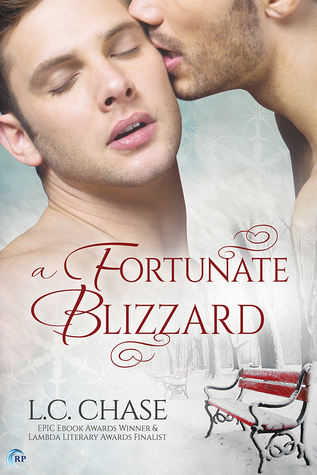 TITLE: A Fortunate Blizzard
AUTHOR: L.C. Chase
PUBLICATION: November 2nd 2015 by Riptide Publishing
ARC provided from NetGalley in exchange of an honest review
MY RATE: 5 STARS *****
There are worse things than being stranded in a blizzard.

Artist Trevor Morrison has always appreciated the little things in life, treating each day as a gift. And with good reason: he's been on the transplant-recipient list for too long now. When he learns just how numbered his days truly are, he resolves not to take them for granted. But he won't be unrealistic, either—which means romantic commitments are off the table.

Marcus Roberts seems to have it all. He's handsome, financially sound, and on the fast track to partnership at a prestigious law firm. In reality, though, his drive for success has meant no time for friends or relationships. Add in the fact that his family discarded him long ago, and he's facing yet another holiday season alone.

When the biggest snowstorm to hit Colorado in decades leaves Marc and Trevor stranded at the same hotel, a chance encounter and a night of passion leads to more than either of them expected. Finding comfort in each other is a welcome surprise, but time is not on their side. Either they find a way to beat the odds, or they lose each other forever.
The perfect romantic story to read under the Christmas Tree. Sweet, heartwarming, I loved everything about this book.
I usually don't like love-at-first-sight stories, but the chemistry the bursts between Trevor and Marc when they first met is so genuine that feels simply right to happen. The connection between them is deep and intense. Stucked in an hotel during a blizzard they decide to give that night a chance and for that single night to feel loved, normal and whole again.
Trevor is an artist and he's dying for a renal failure. His blood type is so rare that to find a match for a transplant it's quite impossible. Trevor is at a crossroad, his time is running out. He has to decide to live the little time remained attached to a machine and in constant pain or stop the dialysis and run towards his fate as fast as possible. After so many years in dialysis and with no options and hope left, he knows what to do. Trevor is loved and supported by a big and loving family.
"He glanced at himself in the mirror. How could he look so...normal, yet be so sick that he was literally knocking on death's door?"
Marc is a lawyer. Rejected by his own family he has only one goal in mind: become a successful lawyer to prove his mother to be worth of her love. He wants her mother to be proud of him and he sacrifices everything for this: love, friendship and his secret passion to be an artist.
After a few days spent together Trevor comes back to his family with the awareness and the peace of mind to have made the right choice and to have helped Marc to find himself again. Marc realizes to have wasted his life searching the approval of a family who doesn't deserve his fight and not worth of his love. For Marc it's time to let go of his past and it's like to come out of the darkness. He was blind. Blind at love and to be loved. He finds that around him there are friends willing to help and support him just because they are friends.
"He stared up at his friends, all crowded into the mobile lab beside him, and let the tears flow freely. His friends. People who didn't judge his worth based on success, position, or status, but who cared because they simply liked him."
"All the success, prestige, and wealth in the world didn't mean a thing if he couldn't use it to save Trevor's life."
I fell in love with Trevor and Marc. They aren't perfect (apart from being gorgeous!!!) and this makes them more real.
It's a story about love, hope, trust, friendship and meet the perfect match (in every sense!)
I cried a lot, but the happy ending is worth of all the tears.
I loved the alternating Marc and Trevor's POV.
Drama and romance is really well balanced.
A page-turner book. Highly recommended.
"Life is uncertain and unfair, but it's also beautiful and meant to be lived as fully as we can."