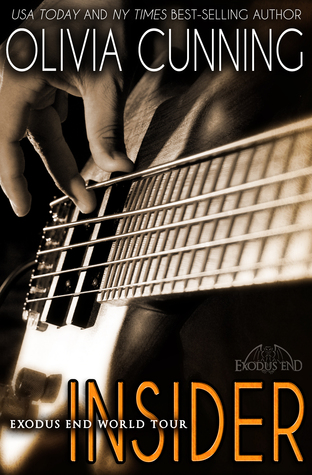 TITLE: Insider
AUTHOR: Olivia Cunning
SERIES: Exodus End #1
Publication: June 30th 2015
MY RATING: 4 STARS ****
Copy provided by NetGalley in exchange for an honest review
Toni wants to be an insider.
Logan just wants inside her.

She's finally ready to rock...
Toni Nichols set aside her dreams to raise her little sister, but now she's reaching for the stars as the creator of a revolutionary interactive biography about Exodus End. She's on tour with the rock band to immerse herself in their world, but how will she ever gain the trust of four veteran superstars who've been burned by the media before? Nobody said this was going to be easy. Then again, good things can come in hard packages.

He's always ready to roll…
Adrenaline junkie Logan Schmidt lives for the rush of playing his bass guitar before thousands of screaming fans. When he's not performing onstage or in the bedroom, he's looking for his next thrill in extreme sports. So why does a sweet, innocent journalist get his heart pumping and capture his full attention? Is Toni the real deal or just digging up dirt on his band? Logan's eager to rock Toni's world and roll her in the sack, but when she starts to get too close to his heart, she takes her insider look to a place he may never be willing to go.
This is the first book of Olivia Cunning I read, and I totally loved it!
I connected with the characters from the beginnig.
Toni Nichols is a sweet and insecure young woman. She is a sweetheart, she cares for everyone especially for her needing special little sister, Birdie.
Logan Schmidt is the bassit of the famous band Exodus End. He's gorgeous, rich and famous and in his mind there are only two things: music and sex. He's insolent and he takes nothing seriously. Until Toni steps into his life.
"What are you going to do to me?" - Toni
"Lamb, the question you should be asking is what aren't you going to do to me?" - Logan
Toni's pure, naive and a virgin. After her father's death she has lived isoleted, taking care of her little sister. Her mother is too selfish and the most important thing to her is her success in business. Toni grew up overwhelmed by her presence and her expectations. That's why now she's so insecure about herself. When the opportunity to create a digital book about Exodus End knocks at her door, she realizes that this can be her chance to leave her family nest and spread her wings.
In spite of her uncertainty she get into the Exodus End's bus and follow them on tour.
When she met Logan her life is turned upside-down. With him she loses her virginty, becoming more selfconfident.
Her naivety and inexperience push them into amusing and embarassing situations. The dialogs sometimes are hilarious.
Around Toni and Logan the components of the band come alive.
Max: the singer, mysterious and wise
Dare: "the women soother"
Reagan: the outsider, the only woman of the band, with an ambiguous love life.
"Those bad boys are an addictive adrenaline rush. Once you're hooked, you'll keep going back for more."
I loved how Toni interacts with all the band members and how they don't make fun of her.
Logan is attraced by Toni at first sight and in an unexpected way. His bad boy attitude hides a soft and romantic heart.
"You don't have to lie to save my feelings, Logan. I'm a big girl." - Toni
"I'm not lying. I wish I could fast-forward time a couple of hours so the show would be over and I could teach you more about making love. And you can teach me how to love someone." - Logan
When Toni's private journal is missing and dirty gossips about the band are published, the band thinks Toni betrayed them and she's kicked off the bus.
Toni's world seems to crumble down. Actually she's the one hurt and betrayed.
But now Toni is a new woman, she has no fear to stand up by herself and she fights for the truth to be told. And in this she's not alone, she has new friends, the love of her life and a reunite family by her side.
I didn't know what to expect from this book and I have to say I really enjoyed it. Olivia Cunning's writing is flowing, easy, exciting and hot. She has created strong characters dispite of their limits and weakness. And she certainly knows how to write sex, hot, steamy scenes with dirty language (oh yes, Logan knows how to talk dirty!!!) and not being gross.
This is a series that I'm going to keep reading.